You Ain't Nothin' But a Groundhog...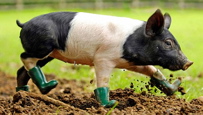 Gotta love Groundhog Day, the movie starring Bill Murray. He keeps waking up on the same day, repeating the same actions—at least, until he smartens up. How often do you just go through the motions, making every day exactly the same?

Certain routines or aspects of your day can't be avoided, but be careful not to get in too much of a rut. Being stuck in your ways makes it that much harder to get through big changes, should they arise. And they always do.

What could you do differently to increase your change flexibility and make life more interesting? How about recording your favorite show while you do evening errands. Get up early to work on a project. Or—and we know we're treading on thin ice with this one—try something different for breakfast.

Who knew you could get through the day without pink hearts, yellow moons and green clovers?
Posted: 2/2/09