Cheap Dates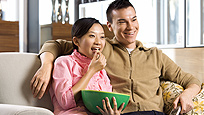 You single folks come up with some pretty creative excuses for not dating, but money? Come on. There are plenty of free, or nearly free, options for dates. And not just the obvious choices, like watching DVDS, playing games or cooking together.

Volunteer your time together, go to a high school sporting event or sign up for the same art class. For the price of one fancy night out, you'll get six or eight dates.

You could also scale down activities that tend to be expensive. Instead of paying top dollar for theater seats, go to a high school or community production. Go out for lunch instead of dinner. Lots of nice restaurants have "prix fixe" lunch menus at reasonable prices.

You're bound to get cheap eventually anyway, when the woo-ing stops and the bills start rolling in. Better to see if your relationship can handle it now, before you've got a mortgage and six kids to worry about.
Posted: 2/19/09