It's Not Me. Or Maybe It Is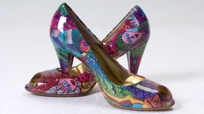 Feeling a little bored with your signature style? Maybe it's time you reconsidered all those looks you've written off as "just not you." Do you know for a fact that they won't work?

Head out to the nearest department store and experiment a little. You don't have to buy anything yet. Just try things on. Between you and that dressing-room mirror, you're bound to find at least a few items that are "you" after all.

Guys, try a pair of slim-cut trousers instead of the typical, fuller cut variety. Try to think beyond navy, gray and black. Gals, if you typically wear pants, try a skirt for a change. Or for a low-cost style change, try some new accessories, like long, layered necklaces, fringed scarves or a snazzy new bag or briefcase.

You never know until you try. What's not you today might be you…today.
Posted: 2/12/09