The Day You Changed Everything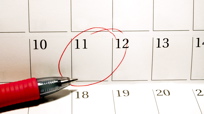 Under the tropical, night sky, you find yourself face to face with the enemy. Raising your weapon, you experience a surge of inner strength. This is it, you think, as you aim with precision—the day you turn things around….

Thwack! Take that, you blood-sucking monster.

Wait for the guilt—nothing. It's official. You no longer feel bad squashing mosquitoes.

Wow, this vacation is turning out to be more productive than you thought.

We all have a day where life changed, or we turned things around. What's yours? The day you stood up to the neighborhood bully? Moved to Hollywood to seek your fame and fortune? Take a few minutes to recall this memorable day and write everything down. If more than one comes to mind, even better. Most importantly, reflect on the inner strength that helped you through these moments and know that whatever hard days lie ahead, that same strength will be there to help you through.

Next time, you might even kill two with one blow.
Posted: 2/11/09