2012: Time for Change-My Change Nation Interview with Daniel Pinchbeck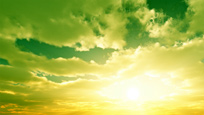 The Mayans saw the year 2012 as time of great change and shift. Daniel Pinchbeck, best-selling author of 2012: The Return of Quetzalcoatl, sees it as a chance to co-create a different outcome. His upcoming film, 2012: Time for Change, follows his quest for a new paradigm.

"We're at a crucial juncture, where either we come to consciousness about what we're doing to the planet and actually participate in a transformation on a species level of our behavior, or it's very likely we won't make it as a species, or in only very reduced circumstances," Pinchbeck suggests.

While no one knows what, if anything, will happen in the year 2012, Pinchbeck offers this explanation. "One way to think about 2012 is that it might be the cusp of a transition, on a species level, from the physical and biological phase of evolution to the conscious stage and the psychic phase of our evolution."

Listen to my entire Change Nation interview with Daniel Pinchbeck.
Posted: 12/4/09