The Best Gift of All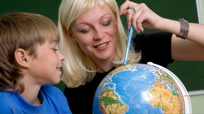 As you search for gifts for everyone on your list this holiday season, remember that what most people want—more than almost anything else—is to know that they are loved, valued, and appreciated. Motivational speaker, Mike Robbins, best-selling author of Focus on the Good Stuff, offers these simple suggestions to make your holiday gifts special and meaningful:

1. In addition to—or instead of—giving gifts, take time to write heartfelt cards of gratitude. Express to the people around you how they have affected your life in a positive way.

2. Ask people what they really want. Giving something specific and personal makes someone feel appreciated and valued.

3. Give the gift of your time or service. Ask a few important people in your life if there's a project they've been putting off that you might be able to help them with. Schedule time to come to their house or support them specifically in getting that task or project accomplished.

Read Mike Robbins' entire blog post on this topic.
Posted: 12/10/09