How to Stay Up When the World Is Down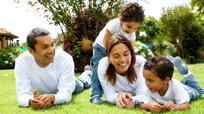 The economy is certainly challenging all of us in many ways, and that includes on our emotional levels. Marci Shimoff suggests 10 simple and effective tips to get you started. Here are the first three:
1. Incline Your Mind Toward Joy. Have you noticed that your mind tends to register the negative events in your life more than the positive? Reverse this by consciously savoring the positive experiences you have as they happen: the sun on your skin, the taste of a favorite food, a smile or kind word from a co-worker or friend. Let the good feelings sink in!
2. Lighten Your Load. To make a habit of letting go of worries and negative thoughts, start by letting go on the physical level. Cultural anthropologist Angeles Arrien recommends giving or throwing away 27 items a day for nine days. This deceptively simple practice will help you break attachments that no longer serve you.
3. Get Your "Happiness Rest." One sure-fire way to boost your happiness level is to go to bed by 10 p.m. for three consecutive nights. You'll find that the world is a different place when you're rested and fresh.
Click here to read the rest of Marci's tips.
Posted: 11/1/09