Healthy Grieving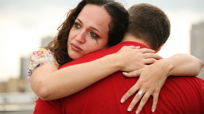 If you've recently experienced the loss of a loved one, you may be wondering if life will ever feel normal again, or if the pain will ever go away. "You don't go back to 'normal,' per se," says psychologist and grief specialist, Dr. Therese Rando, author of How to Go on Living When Someone You Love Dies. "You develop a new 'normal' over time—one that takes into account all the changes in your life."

She reminds us that moving forward isn't about cutting ties. It's about transforming them. "You let go of the old interactions and ties you had with them while they were alive, and develop a new relationship based on more abstract connections," suggests Rando.

While pain is an inevitable part of grieving, finding healthy ways to release the tension often brought about by major loss can be helpful. "Getting physical exercise is very important," advises Rando. She also recommends learning how and when to take breaks from your grief.

For more expert tips and advice on grieving, visit our grieving page.
Posted: 10/8/09