How to Survive a Financial Crisis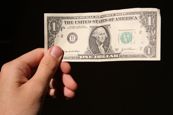 Regardless of how long you've been playing fast and loose with your finances, it's never too late to get back on track. Living within your means now offers emotional rewards today and financial rewards for years to come. Here's how to start:

- Know where your money goes. Stick an index card in your wallet and for a month, jot down every purchase you make. Divide expenses into two categories—necessary and not—and use a site like Bankrate.com to create a budget.

- Minimize your lifestyle costs. Check insulation and invest in thick curtains to prevent heat loss through walls and windows. Buy energy-efficient light bulbs. Find the cheapest gas prices by searching Gasbuddy.com, Gaspricewatch.com and Altfuelprices.com. Cancel subscriptions that you rarely use and so on.

- Deliver yourself from temptation. Withdraw your budget for the week in cash. Paying with bills feels more "real" than swiping your debit card. Recognize and avoid situations that entice you to spend, such as hanging out at the mall.

- Brighten your outlook. Look at this as an opportunity for emotional, not just financial, growth. Celebrate the fact that you're no longer letting money control your life!

Read more tips on surviving a financial crisis.
Posted: 10/20/09