People Would Rather Die than Change! My Interview with Alan Deutschman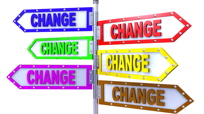 Anyone has the potential to change, at any age. That's according to Alan Deutschman, author of Change or Die: The Three Keys to Change at Work and in Life, who offers these keys to successful change:

1. Relate
You need an emotional relationship, either with a person or with a community, to inspire a sense of hope and belief. Emotional chemistry with others is extraordinarily powerful in helping people through change.

2. Repeat
Learn, practice and master all of the new things that you need to know—i.e., figuring out how to hail a cab after moving to NYC. Not knowing even one or two of these 100s of little things can be very frustrating.

3. Reframe
Find a new way of looking at your situation. It's like rewriting your own biography to make sense of your life. See the change as an evolution to something better.

Listen to my entire Change Nation interview with Alan Deutschman.
Posted: 10/16/09