Top Tips for New Moms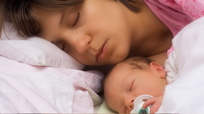 Life with a new baby can be a rollercoaster of intense emotions and unexpected challenges. To help yourself feel less overwhelmed, try these tested tips:

- Line up some help. Have a loved one or friend coordinate a month-long schedule of people to clean, prepare healthy meals, run errands and help with the baby, so you can rest and recover. This is not selfish; it's self-care.

- Make feeding fun. To keep those 8-12 feedings per day from wearing you down, create a special spot stashed with snacks, books, soft music and comfy pillows. Watch a favorite TV show, catch up with a good friend on the phone or dive into a parenting magazine.

- Be with other moms. Find or start a regular playgroup with other new moms in your area. Nothing is more reassuring than hearing and seeing that you're completely normal—everybody else is experiencing the same thing!

Read the rest of our top tips for new moms. And check out all of our expert advice on the first 30 days of having a new baby here.
Posted: 10/4/09