Unexpected Miracles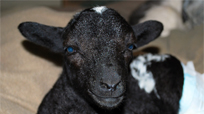 A lamb born in a transport truck on the way to a Bronx slaughterhouse was rescued by Farm Sanctuary, the nation's leading farm-animal-protection organization, last week. A Good Samaritan spotted the minutes-old lamb as the sheep were being unloaded and convinced the slaughterhouse manager to hand him over to her. Reportedly, the newborn spent the first five days of his life following the woman's elderly mother around like a puppy!

"We have named the little lamb Angelo, meaning messenger," says Meredith Turner of Farm Sanctuary. "He will become an ambassador for his species, educating thousands of visitors to our NY shelter about the horrors endured by animals just like him everyday on factory farms."

This beautiful story is just one example of the incredible work that Farm Sanctuary is doing to promote compassionate living. To learn more, listen to my interview with Gene Baur, founder of Farm Sanctuary and author of the best-selling Farm Sanctuary: Changing Hearts and Minds about Animals and Food.
Please feel free to forward this email to any of your friends you think may need its information right now.
Posted: 10/2/09