Shop for a Smile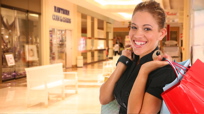 There's a reason you're feeling so down in the dumps these days, and it has nothing to do with post-holiday blues, or SAD (seasonal affective disorder). Remember all those light and easy, fun-filled days back in December? Don't give holiday spirit all the credit. It was the all that shopping that made you feel so good.

Not to mention the thought of people shopping for you.

A new study shows that shopping can be good for your mental and physical health. It releases mood-lifting endorphins, boosts your immune system and keeps your brain nimble. Basically, if you want to feel good again, hit the stores. Heck, start shopping for next year now. You'll feel good all year long.

No money left? No problem. You don't have to actually buy anything to reap these rewards. It seems window shopping has the same positive effects. So keep an eye on your budget but get on out there and have some fun!
Posted: 1/5/09