Let the Good Times Roll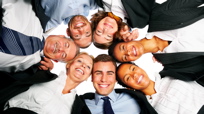 Work, work, work. All you do is work. Just because you're a grownup doesn't mean you have to act like one all the time. You're like a kid with a few more responsibilities, that's all. Once in a while, you need to have some fun.

Just for kicks, take a break from the office, grab a friend and hit the nearest ice-cream parlor for root-beer floats. Crack a joke at the weekly sales meeting. Maybe your stick-in-the-mud coworkers will lighten up a bit.

Out and about around town, skip an errand or two on your list. Do you really need those groceries today? Or the dry cleaning? After-holiday sales at the mall are way more exciting.

Take some time for fun, or you'll end up resenting everyone around you who seems to be having a good time. You can always go back to your same old, schedule-driven self tomorrow.
Posted: 1/31/09