Empowerment 101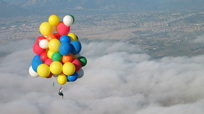 Empowerment has nothing to do with being powerful in terms of physical strength or your position in society. It's all about control. Basically, any time you feel confidence and control in a situation, that's empowerment.

Here's a great way to bring more empowerment into your life: Decide, right now, that whatever happens or no matter how bad you're feeling, you'll do your best to make the best of it.

So if your car breaks down and you have to wait for AAA, instead of griping and groaning for 45 minutes, look for something good in the situation, like, fabulous, now I've got time to clean all those holiday receipts out of my wallet. Or if you're late for work again, you'll think, Yippee, I might finally get fired.

Commit to doing your best to make the best of it again and again, and in a very short time, you'll be amazed to find yourself in a much better place.

Who's in control now, huh? HUH?
Posted: 1/30/09