Warm, Fuzzy Feelings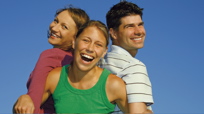 All that stuff that went on in high school was so juvenile—you know, cliques, gossip and so on. Thank goodness our world is just one, giant, mature adult clique now.

If only.

The same stuff goes on now—it's just not as blatant. We kid ourselves that people won't notice or that they can handle being left out. They're adults, after all.

But experiments show that exclusion strikes at the core. People who feel socially excluded (or even think about a time they were) have a greater desire for warm food and drink or often feel chilly in a room.

Can you really leave someone out, knowing you're making them cold and hungry? Maybe an apology and some hot chocolate are in order.

If you've been feeling left out, stop relying on sweaters and soup. Ask yourself what you can do to feel more included. There are some great books out there on improving social skills. And remember that it's not important for everyone to like you—just find one or a few good and true friends that will take the chill out of the coldest day.
Posted: 1/28/09