Fly Like an Eagle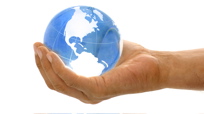 Does a bird think about it before taking flight? No. He just feels an impulse inside his little bird brain: "There's that cute bird from the shrubbery—now's your chance!" or "Skewer that field mouse—I'm starving!" Basically his actions are spontaneous.

If you've been feeling a little itchy or tied-down lately, try being a bit more bird-like. Give yourself permission to take spontaneous flight. Hop in the car or on a plane, (or take a bus, or boat or train) and spend some time somewhere, anywhere, as long as it's away from home.

Don't have a job? Even better—you won't have to take time off. No money? Take the car and stay with a friend. Or find some friends to travel with and share expenses. Where there's a will, there's always a way.

A change of scenery is just the thing for gaining a brand new perspective.
Posted: 1/27/09