Become a Nice-a-holic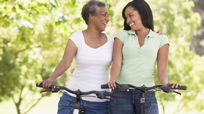 If you'd like to do something nice, but aren't exactly sure what, DoOneNiceThing.com has the answer. What started four years ago as a vow by founder, Debbie Tenzer, to do something nice once a week is now a resource for anyone who wants to become a Nice-a-holic.

Tenzer remembers having an epiphany when a lunch with longtime friends turned unexpectedly bitter and critical: "Okay, I can't end hunger, but I can donate cans to a food bank. I can't fix needy schools, but I can give them my kids' old books." And so on. Small acts create big results. And despite their different views, people could still unite to help others. She started posting ideas on her site and the word spread.

Tenzer has also written a book, Do One Nice Thing, offering over 100 ways to help friends, kids, soldiers, pets and the planet. "By making kindness a regular habit, you exercise your compassion muscles and keep them strong," says Tenzer. "It's empowering. The more you help others, the more hopeful you feel."

Read more about Debbie Tenzer in our Profiles of Change gallery.
Posted: 9/21/09