Does Your Life Need a Tuneup?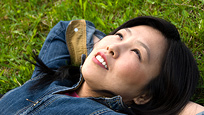 Many women believe that they're being selfish when they think about themselves and what they want. Loren Slocum, Founder, CEO and President of Lobella International, an organization inspired to help women "stay true to who they are," is working to help change this mindset.

"There is absolutely no reason that a woman can't have it all," says Loren. "It's just a matter of…consciously and creatively using the gifts and resources that are all around you." Her goal is to help each woman get in touch with her true self and change her life for the better. "It's not always a life makeover that is needed," Loren suggests. "Small changes are all it takes, or as I like to call them, 'Life Tuneups.'"

Loren says she founded Lobella to encourage women not only to support one another, but also to remind them that they are not alone.

Read more about Loren Slocum in our Profiles of Change gallery.
Please feel free to forward this email to any of your friends you think may need its information right now.
Posted: 8/31/09