One Question That Will Help You With Any Change!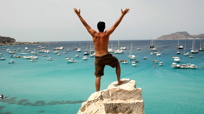 Who are your real friends who want you to change? believe you can change? will be a positive influence for you?
The company you keep may be what's stopping you from making your next big change. As I mentioned in a recent interview with Montel Williams on Montel Across America, the five or six people you spend most of your time with have a giant influence on your life. If they tend to be toxic—either they don't think you can change or they don't want you to change—they can keep you stuck.

Take inventory of the people around you. Do they build you up, or are they constantly bursting your bubbles? Whenever possible, surround yourself with optimists. (And try to be one for others.) Positive people make you feel good about yourself. They encourage you to take risks and to do what's right for you, not for them.

In the end, you're the only one who can change your life. But you'll get there a lot faster, and you'll be a lot happier, surrounded by a positive change-support team.

To listen to my entire interview with Montel Williams, click here.
Posted: 7/9/09