Success Starts in the Mirror: My Interview with Lisa Nichols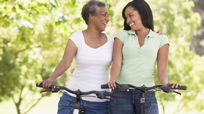 If you'd like to get started on the road to success, get in the mirror. That's the advice of Lisa Nichols, motivational speaker and best-selling author of No Matter What! "Start a relationship with yourself," she suggests. "We're so into serving others and being something for other people. Begin being what you need to be for yourself."

Nichols says to get in the mirror, look yourself in the eyes and complete these three sentences:

1. I'm proud that you… (name seven things).
2. I forgive you for… (name seven things and start letting go of the blame, shame, guilt and anger).
3. I commit to you that… (make a new commitment every day).

Nichols commitment that day was, "I commit to you to stay true to self… to show up and give people your true light… to love you no matter what happens today and… to show up and not play small for the world."

To listen to the rest of my Change Nation interview with Lisa Nichols, click here.
Posted: 6/26/09