The Best Work Weeks of Your Career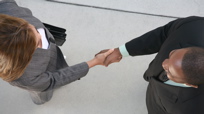 In this difficult economy, the first and last weeks of your job make the most impact. That's according to career expert, Nicole Williams, author of Wildly Sophisticated: A Bold New Attitude for Career Success and Earn What You're Worth.

"The biggest mistake you can ever make is to lay low those first couple of weeks," Williams told me in a recent interview. "You want to be known as the hard worker." She recommends coming in early, staying late and stepping up in any way possible during those first few weeks.

Leave a job well is equally important. "You don't want to burn any bridges," advises Williams. "The world is small. You're going to see them again." Even if you're angry about the situation, she says to make sure they remember you as the one with the great attitude. You never know, they might be hiring again or have a chance to pass your name on to someone else.

For more career advice, listen to my entire Change Nation interview with Nicole Williams.
Please feel free to forward this email to any of your friends you think may need its information right now.
Posted: 6/5/09