Unfinished Business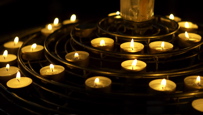 In a world of continuous change, living spiritually keeps us tuned into the calm, centered part of ourselves, helping us stay balanced and grounded during times of transition. And part of our spiritual lives depend on feeling deeply connected to our loved ones as well as everyone else around us. But what about our still-loved ones who have passed?
World-famous medium James Van Praagh has a new book in which he shares with readers the personal regrets, misgivings, remorse, and, most important, the advice of the dead who have chosen him as a medium. Unfinished Business is filled with shocking and emotional stories of Van Praagh's communication with loved ones who cross over the barrier between the living and the dead to send messages to those whom they have left behind. Through these profound true stories, Van Praagh guides us on an adventure into the spirit world. The lessons for the living that he has learned from these experiences range from the dangers of emotional baggage caused by guilt, fear, and regret to the importance of karma, forgiveness, and taking responsibility for our actions. Van Praagh shares with us now the wisdom that, without him, we would only gain after death.
To get your copy of his book and also enter to win a reading from James, click here. Van Praagh writes "When people shed their physical bodies at death, their spiritual selves see life from a whole new perspective. It's as if they had Lasik surgery. They can finally take off their glasses and see everything more clearly." We have much to learn.
Posted: 5/21/09