Three Top Tips on Working After Baby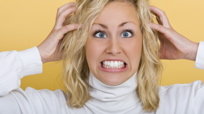 Going back to work after baby is never easy, but the right mindset and preparation can make your adjustment a little less nerve-wracking. In a recent TODAYshow.com article, I shared these three tips on becoming a happy working parent:

1. Give up the guilt. Regardless of your reasons for working, don't give in to guilt. Accept what is, and you'll feel relief and start to see solutions.

2. Trust your instinct. When it comes to child care, don't settle for 98% satisfaction. Follow your instincts and don't give up until you find a daycare or babysitter that you trust 100%.

3. Be gentle with yourself. Allow yourself to feel whatever emotions come up—frustration, sadness, etc. If the laundry doesn't get done or you need to ask for an extension at work, that's okay.

To read the entire article, click here, or for more advice on working after baby, go here.
Posted: 5/18/09