Be Your Own Biggest Change Hero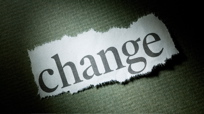 Your next big change is your chance to be the hero you've always wanted to be. We've all been heroes for the people we love. Now take that same strength and optimism and use it on yourself. See yourself as someone who will come through this layoff, divorce, health diagnosis or other life change victorious, despite the odds.

Heroes don't hide out, waiting for things to settle down. They're right where the action is, moving forward and taking on what life asks of them.

Even if you don't feel like a hero, act like one. Strive to be an inspiration to others, not a warning of how not to go through change. Reach deep inside yourself and find a way to turn the bad around, to take the higher path and to move through change and come out stronger.

For more tips to inspire you through change, read my book, The First 30 Days: Your Guide to Making Any Change Easier. It's currently #84 on Amazon's best-seller list, #1 on personality and #40 in the Top Releases.
Help us make it a New York Times "Best Seller" today. Pick up your copy today and your free gifts here.
Posted: 5/16/09