The Big Leap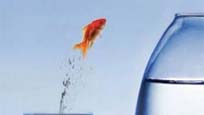 Our friend Gay Hendricks has written an amazing new book, The Big Leap, and I really think you will benefit from reading it. The Big Leap shows you how to do several things that are incredibly important right now:
How to discover your Zone of Genius
How to overcome the Upper Limit Problem, an invisible barrier that keeps you from making your Big Leap into your Zone of Genius
How to use a specific affirmation that takes you past your upper limit and centers you in your Zone of Genius
How to experience continuous waves of organic good feeling, abundant wealth and genuine love
The Big Leap gives you a unique set of tools for achieving those goals, backed up by Gay's 35 years of experience in coaching everyone from billionaires such as Michael Dell to rock stars to 12-year-old prodigies.
Plus, buy the book today during the official launch and you get several major extras:
Your name is entered into a drawing for a $10,000 day of consulting with Gay (which includes two one-hour follow-up sessions)
You get lots of cool gifts from friends who are helping with the launch
When you visit the site, check out the rewards for buying multiple copies for friends, family or classes.

I urge you to get the book today and put its magic to work for you.

Learn more here.
Posted: 4/21/09