The Key to Your Success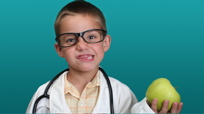 The difference between success and failure may be your ability to delay gratification. That's the lesson from Joachim de Posada and Ellen Singer in their wonderfully inspiring book, Don't Eat the Marshmallow. . . Yet!: The Secret to Sweet Success in Work and Life.

De Posada and Singer discovered a Stanford University study where one hundred 4-year-olds were put in a room with a marshmallow and told that if they waited 20 minutes, they'd get a second one. At that point, they could eat both. During the study, when Walter Mischel, who conducted it, left the room, hidden cameras revealed which of the children ate the marshmallow immediately. Interestingly, Mischel returned to the kids after 14 years and found that those who were able to delay eating the marshmallow were far more successful in every area of life.

That's definitely entertaining information, but one way to apply it meaningfully is this. When looking for a job, instead of taking your first job offer, settling down with your first partner or making another impulsive decision, think again. Something better may be just around the corner… and well worth the wait.
Posted: 4/11/09