That's Why It's Called a Treat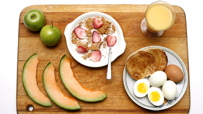 When you were a kid, did your parents let you ride your bike up to the Dairy Bar for an ice cream every night? Of course not. Even if they, A, had the money and, B, didn't care two hoots about your health, they wouldn't have let you. It was considered excessive.

How is it, then, that you can justify consuming one of those eye-popping, jaw-dropping, whipped-cream-topping, wake-up-now-or-forever-hold-your-peace hot beverages every single day?

Not only are you ruining it for yourself—something you do every day quickly loses its "treat" status—but you're spending huge amounts of money. To the tune of five bucks, times five days a week, times 48 weeks equals a whopping 1200 smackeroos a year.

Give up excessive daily habits, let treats be treats, and save your pennies for something really important. Like daily trips to the Dairy Bar when you're old and can't taste anything but sugar.
Posted: 2/28/09