Stop Your Snoozing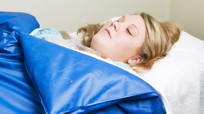 Well, folks, it's an icy 21 degrees out there as another blizzard continues to blanket the region with over a foot and a half of snow. Get ready now for our long list of school closings….

Woo-hoo—snow day! What could be better than rolling over to catch a few more Z's when you thought you had to get up? Which explains the popularity of the snooze button. It lets you please, just a few more minutes as many times as you want.

But just as you pay for snow days when you make them up in June, you pay for snoozing with less rest. You may fall back to sleep, but fragmented sleep isn't as restful as the uninterrupted variety and can leave you feeling groggy.

This week, set your alarm later, get up right when it goes off and notice how much more rested you feel throughout the day.

For extra wake-up insurance, perch the alarm on a high shelf on the opposite wall.
Posted: 2/9/09