I "Heart" My Healthy Heart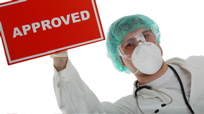 The Centers for Disease Control and Prevention estimate that an American has a coronary event (i.e., heart attack) every 26 seconds. And someone dies from one every minute.

Of course, you won't be one of those people.

Still, do this super-quick heart health check, just for kicks.

- Have you spoken to your doctor about heart disease?
- Is there a history of heart disease in your family?
- Is your waist larger than 35 inches? (If so, according to Harvard Medical School, you may be at a higher risk).
- Do you snore? You may have high blood pressure, which leads to increased risk of heart problems.
- Are you eating enough whole grains?
- Do you smoke?
- Are you active? Just 30 minutes per day makes a big difference in heart health.

If you answered yes or no to any of the wrong questions above, check in with your health care provider about keeping your risk factors for heart disease to a minimum. It is American Heart Month after all.
Posted: 2/4/09