Survey Says...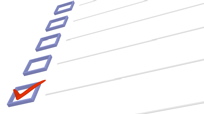 By now, you've probably noticed the fact that change is everywhere you look! Whether you've been using the First30Days.com web site for a few days or a few months, you're likely viewing everything through the lens of a change optimist (or at least beginning to see that from this, something good will come).
What if we told you that the "something good" would be a goody-bag from us? Not that change isn't its own reward, of course...but if you complete our brief customer service survey, you may be chosen at random to receive a bag full of F30D gear and some other fun stuff from us!

So please take a moment to help us make your experience even better. Your thoughts and opinions will help us continue to bring you fresh and relevant content on the changes you're going through. We appreciate your help!

Why? Because we're sincerely interested in your experience at First30Days. It's our mission to inspire you to find the positive in any change—the ones you've always dreamed of making and the ones life has given you. We want to be the first place you think of in times of change, a place full of optimism and a place where you feel informed and inspired.

Oh. And because this is supposed to be an Everyday Change, here's today's take-away: Speak up! How many times in life have you wanted or needed something but were too shy to ask for it? It's never wrong to ask (nicely, of course) for what you want. This is your chance to get what you need—we're listening!
Posted: 9/23/08