Peace Out, Dude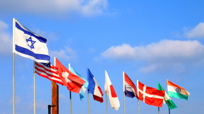 Not that we're getting all peace-y or peace-ified or peace-ious or anything. September just happens to be a peace-full month.

In the wake of Earthdance's Prayer for Peace on September 13 comes The International Day of Peace. On September 21, from the comfort of your home, office or anywhere else you find yourself, observe a minute of silence at noon in support of the common commitment to peace. Think about what world peace means in the global sense, but also consider what peace means in the context of your relationships with loved ones, friends and co-workers.

Beyond the moment of silence, you might light a candle for peace, attend a noon gathering at your place of worship or talk to your children about being peaceful to each other. Visit the International Day of Peace site for a list of other activities you can do today—and everyday—to help promote peace in our world.

Is there peace in your relationships? How could they be improved by becoming more mindful about peacefulness?
Posted: 9/19/08