The Never-Ending Vacay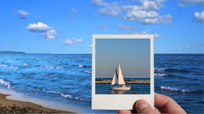 The kids are back at school (woo-hoo!—er, already?), days are shorter and weekend beach trips have faded into distant memories. Still, don't let go of those lazy, crazy, hazy days of summer just yet. You can relive your most treasured summer experiences again and again.

Disney? The Baseball Hall of Fame? Your neighborhood playground? Gather together photos, ticket stubs and any other mementos and get thee to a craft store for some scrapbooking supplies. You can also contact your local Creative Memories representative or visit their web site.

Not ready for primetime scrapbooking just yet? Get your memories organized by creating a photo album and writing a caption next to each photograph. You could also put together an online album to send to family and friends through photo-sharing sites like Webshots, Flickr and Fotki.

Just beware, assembling photo memories can be addictive and has the potential to consume hours of otherwise "productive" time….if you've got scrapbooking tips or other ways you keep your family memories intact, tell us!
Posted: 9/15/08