Live In Love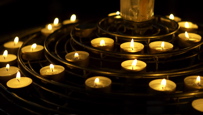 It's hard to think of anything else today but the events of seven years ago. The words "nine eleven" and "September 11th" have taken on entirely new meanings. They don't just represent a date anymore—they're the event itself.

Today, as we still struggle to come to terms with the tragedy of that horrible day, remember the victims of 9/11 by celebrating life. Reach out to someone who needs your help and support, spend time with loved ones or just sit and appreciate all the wonderful things in your life. Find it in your heart to forgive someone or reconcile an old and forgotten relationship. Say I love you.

Is there something you can do to make a difference beyond your own circle of family and friends? Today is the perfect day to do it. Whether it's donating to a charity, volunteering your time or writing a letter to your senator, spend this day remembering how truly blessed your life is. Who knows? Today could be the start of something bigger in your life. That volunteer stint may turn into a lifelong commitment; a reconnected friendship can reap untold rewards.
Posted: 9/11/08