Considering Consistency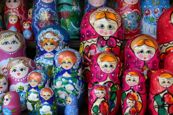 A foolish consistency is the hobgoblin of little minds.—Ralph Waldo Emerson
With all due respect to the great writer, consistency has its place. This isn't to say that life should be lived statically—you should be out there, you little radical! Change up things like the placement of your furniture in your home, the way you get to work in the morning or the place you buy your fair trade coffee. And yes, you can change the bigger things, too. We're not going to be the ones to tell you, after all, that change shouldn't happen!

All we're saying is that it seems important to be consistent in ways that matter. For instance, be a person of your word. If you say you're going to do something, do it. Made plans with a friend and feel like bailing because it was such a long day at work? Don't call and make up a white lie. Try keeping your plans with the idea in mind that you'll dedicate one hour to laughing, listening and sharing. Who knows? It may just revive you.
Consistency makes a difference at work, too. If your boss and co-workers always know what to expect from you, your workdays will go much more smoothly. Sure, there are exceptions, but overall you'll find you enjoy doing business more when you strive to be thorough and consistent each day.

We're sure you can think of numerous other ways to be consistent—as a parent, a partner or a neighbor. Let us know what you think, and how you define consistency!
Posted: 8/25/08