Beep-Beep! Your Ride's Here.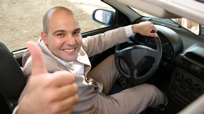 With no end in sight to rising gas prices, carpools are springing up all over the place. "Not me," you say. "I'm not the carpool type." After all, who really wants to spend the extra hour in the car listening to Herb's opinion on last night's episode of "So You Think You Can Dance?"

It's a small price to pay when you're saving money on gas, contributing less pollution and actually getting to work on time. Unless you walk, use public transportation or drive a one-person vehicle (read: scooter), you might want to reconsider. Those carpool lanes can be very handy.

Just for kicks, ask around at work to see if anyone else is interested in carpooling. You may be surprised by how many people have considered it, but feel the same reluctance you do. Suggest giving it a try for a week or two, no pressure.

Yes, you'll all have to give up some independence. You may even have to put up with some annoying habits. But in the process, you may end up becoming the best of pals. It may even improve office camraderie, and make the next company picnic a pleasure!
Posted: 8/11/08