Bright Ideas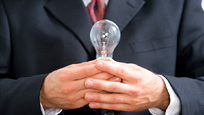 Hey, that's my idea!

It happens every time. You weren't even snoozing—so why do you keep losing out on opportunities to turn your dreams into reality?

Now's your chance to wake up and start doing. August just happens to be National Inventor's Month. While the spirit of innovation is in the air, dust off your lab coat and get busy. Dig down deep for some stick-to-itiveness and finish off that prototype! Most inventors don't just stumble upon greatness. They discover it through hard work.

If you have no interest in inventing anything, ever, that's fine, too. Initiate some brainstorming meetings with people at work or a group of friends who are like-minded. Start that project you've been putting off. Or celebrate the spirit of innovation by reading about some of the world's greatest inventors and inventions at The Great Idea Finder. Fascinating stuff, especially when you try to imagine life without these innovative thinkers. Who knows? You could find yourself right alongside them one day.
Posted: 8/1/08