Pick a Peck 'O Powder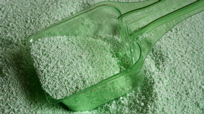 "Hi-ho! Kermit the Frog here, reporting live from planet Earth on all the wonderful things people are doing to live green lives. We're here in this laundromat hoping to—wait, here comes someone now. Uh, excuse me, we're looking for the best advice on making laundry a little greener. Is there anything you'd like to share?"
Well, Kermie, since you asked...

Buy eco-friendly detergents, and if you can do without the liquid, powders are even greener. Liquid detergents can be up to 80% water (concentrated formulas average about 50% agua). Talk about a waste of water! Plus, all that water means larger packaging—which, of course, is made of plastic. Powders don't contain water and typically come in biodegradable, cardboard packaging.

Well, there you have it friends. Choose eco-friendly, powdered detergents. While our good friend Kermit lamented that it's not easy being green, you can achieve your eco-conscious goals one switch at a time. Start today with detergent. Who knows what other positive changes it might lead to?
Posted: 7/9/08