Say It Loud, Say It Proud.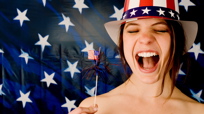 Happy Fourth, fellow Americans. Let's celebrate! Fireworks, picnics, barbecues, parades, a day off—across the nation, it's one giant red, white and blue party.

(Get ready, here comes the serious, introspective part.)

As we're all enjoying the day with our nearest and dearest, let's try to remember that it's not all about the biggest fireworks displays and piping the same number of stars and stripes on every cupcake. Today, spend a few minutes reflecting upon what we're really celebrating—our freedom. Try to imagine what the founding fathers went through to give us this Independence Day (If you don't remember much from history class, look up some facts online.)

In the spirit of independence, exercise your right to free speech by writing a letter expressing your opinion to a senator, congressman, editor of a publication or anyone else in a position of authority or influence. Your words as a citizen count—some would say now more than ever.

Enjoy the day, everyone! And yes, enjoy those cupcakes while you watch the pyrotechnics in the sky, too. It's OK to have a little fun, afer all!
Posted: 7/4/08