Take Your Boss to Lunch Day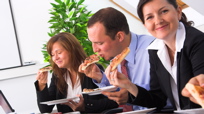 All right, so there's no such day, but give it time. Maybe Hallmark will invent it. In the meantime, start your own tradition. Pick a day on the calendar and invite your superior to join you for lunch, coffee, tea and crumpets—whatever. Why should your boss always get to call the meetings?

It can be helpful in any career-based relationship (especially as you begin a new job) to hang out in a new environment—someplace to get your mind off the typical office stressors. Spend some time talking about personal (but not too personal) topics, and you may gain valuable insight into how your boss thinks. Additionally, it's a chance for them to get to know who you are and what makes you tick.

If it seems appropriate, use this time alone to pick your boss's brain on anything you might be curious about in terms of your own career path or the trajectory of the company. After all, your boss is bound to sit up and take notice any time you show interest in the business at large!

By investing time in your superiors, you're investing big time in your career. Think of it as building a bridge that will stand the test of time—we'll bet the professional relationship you forge today will be there for you way down the line.
Posted: 7/13/08