Healthy Choices.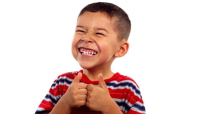 When work's a stress-fest, all of the kids in the neighborhood are screaming at each other and you have tons of yardwork to finish by Saturday, it's easy to feel like you are on the verge of snapping. But wait, who's that skipping down the sidewalk? Why, it's Susie Sunshine, happy, peppy and bursting with love as usual. And she just happens to be carrying a plate of freshly-baked cookies.

Not now, please, not now.

It's on the tip of your tongue—why can't you be cranky and miserable like the rest of the planet—when out of nowhere, an angelic voice warns, "Don't you dare."

"Bring her down!" someone screams in the other ear.

After careful consideration, you take a deep, calming breath and allow your neighbor's positive mood to lift your spirits. Why thank you, a cookie would be nice.

Embrace good karma at home, in the workplace and out and about during your day—trust us, you'll feel better.
Posted: 6/7/08