Hardee-Har-Har.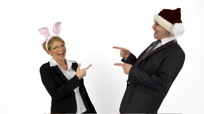 Janet's cube is sealed tight with bubble-wrap. You can't wait 'til Ralph tries to pick up his stapler. You're the resident workplace prankster, and you're proud. If it weren't for you, this place would be a regular morgue.

Fear of being fired? Never. If anyone tries, you're armed and ready with this:

A study from the University of Missouri at Columbia suggests that joking on the job can improve communication and performance. "The ability to laugh and make other people laugh actually has physiological effects on the body that cause people to become more bonded," notes one of the researchers.

Who can argue with that? You're just helping to boost morale around the place.

So fellow pranksters, as long as the joke is workplace appropriate, go ahead and have a laugh.

Which means ixnay on the blow-up doll.
Posted: 6/28/08