Make Your Kids Smarter.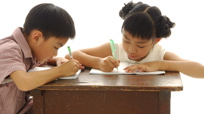 Introducing… a revolutionary new technology… the first of its kind… a ground-breaking innovation that promises to make your kids smarter.

Not that your kids aren't smart enough already.

Does it involve hours of tedious flash cards? No. Will you have to suffer through afternoons of painstaking math drills? Wrong again. In fact, you won't have to spend any time with them at all. So how do you do it, you ask?

By socializing more.

That's right, folks. A recent study from the University of Sheffield in the UK reports that students whose parents have active social lives perform better on standardized tests. Hard to believe, but true. The article suggests that sociable parents tend to talk more, which helps to build a child's vocabulary.

Well, what are you waiting for? Make some plans already.
Posted: 6/26/08