Tricks of the Real Estate Trade.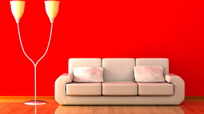 Finally, the open house. Other homes stay on the market for months, but not yours—no siree. Every ounce of clutter is gone, and there's not a blade of grass out of place.

Hours later, you're wondering what went wrong.

Honestly, the place looks like a college dorm. Whether you're a minimalist, you've moved everything to a new house or your furniture really is from college days, empty doesn't work. Fill your house with stylish, functional furniture, so potential buyers can see just how charming the place can be. It won't cost much—you can actually rent the stuff.

Check out web sites like Churchill Furniture Rental and Fashion Furniture Rental, among others, for large selections of rental furniture (and rugs and accessories and appliances…). Choose from individual pieces or opt for complete "home staging" service.

Just don't get too attached.
Posted: 6/10/08