Alone Again (Naturally)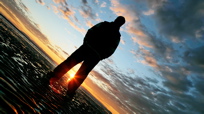 As a kid, you probably equated being alone with being a "loser."

Even as a grownup, you probably still feel more secure surrounded by other people—it's why we struggle so much when moving to a new city, breaking up or divorcing. But young or old, spending time alone is just as important as having an active social life.

Whether you want to believe it or not, your opinions, likes and dislikes are influenced by the people around you. Spending time alone gives you a chance to hear that voice inside your head without interruptions or contradictions. Listen closely, and you'll develop a better understanding of who you are.

How much time do you spend alone? Make a date with yourself to go to a movie solo, take a walk or drive without trying to get anywhere or to simply stay home by yourself and work on a project or favorite hobby. And no, sitting at your desk at work doesn't count! This is all about getting in touch with yourself.

Tell us about some time you've spent on your own lately, and what came of it.
Posted: 12/7/08