Make New Friends, Ditch the Old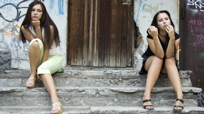 A friend is someone who likes you. At least, that's what Joan Walsh Anglund's well-loved children's book says. But what if your friends also make you feel bad about yourself? Or that you don't do enough for your family, for the environment or most important, for them?

Then you're probably dealing with Debbie Downer or Toxic Tim. They pose as friends, but deep down, you know differently. Recognize these people in your life and distance yourself from them—diplomatically, if possible.

Forget the carpooling. Gas is cheap and besides, I can't hear my audiobook through all your self-righteous blabbering.

Focus your social efforts on starting new, healthier friendships. You may already know some good candidates. Make an effort to start conversations with them. Invite someone you like to join you for lunch, coffee or holiday shopping.

Don't assume people already have enough friends. They may be itching to replace their own Debbies or Tims.
Posted: 12/6/08