Onward and Upward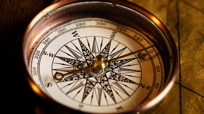 Dealing with a breakup or divorce is hard enough on its own; the last thing you want to do right now is holiday cooking… or decorating… or shopping. You couldn't face the mall right now if your life depended on it. Unless maybe you were going to buy a dozen dead roses or a bunch of sad, sad movies.

When you feel lousy smack dab in the middle of the giving season, there's only one thing to do: Get selfish. Take the focus off "the event" and put it back on YOU. Today, think of one small change that will get your life moving in a more positive direction. Even if you don't think it will make a difference do it anyway.

Take the money you were going to spend on that significant other and spend it on you. Get a new haircut (The signature move of anyone going through a breakup. Extra points for a new color, too!). Sign up for a class, plan your ascent up the corporate ladder, figure out how much you'll save after you downsize your home… anything that helps to redefine your life in a positive way. It won't be the only thing that heals your heart (time does wonders for that) but it's a great, proactive start.
Posted: 11/4/08