Choosing Your Own "Word of the Year"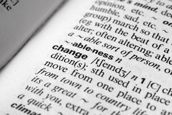 Hypermiling has officially been chosen as the Word of the Year by the good people at the New Oxford American Dictionary.

We're sort of personally calling Change the official word of the year, but different strokes for different folks, right?

In brief, hypermiling, for those who may not know, is "an attempt to maximize gas mileage by making fuel-conserving adjustments to one's car and one's driving techniques." Hypermilers will do almost anything to cut down gas usage, from always making sure tires are properly inflated to driving without shoes to increase foot sensitivity to pedals. Talk about extreme green!

We share this not because we think you should become a hypermiler (though reducing gas usage isn't the worst idea ever.) We just LOVE the idea of a word of the year for personal use! Think about it...if you look back on a past year of your life, there's probably been a theme or central idea running through it. Maybe 2004 was the year of Transition. 2006 could have been the year of Family. What will 2009 be for you? Find a theme or idea that conveys the essence of what's important to you. Who will you be in the next 12 months? What will you do?
There are so many words out there, the possibilities are endless. We can't wait to hear what your choices are!
Posted: 11/23/08