Un-Shop Till You Drop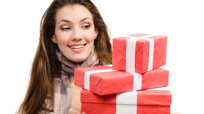 With everyone looking for ways to ease the financial burden this holiday season, consider the most logical one of all: Don't shop.

That's crazy talk! Not shop...they're kidding. Right?

We're not suggesting that you cancel Hannukah or forego Christmas. 'Tis the season and you can give, but try doing part of it without spending any more than you were going to spend anyway.

An example: Let's say your kitchen or bathroom is in dire need of an overhaul. Agree to give each other part of the new space—a stove, a toilet, whatever. If you've been thinking of skiing or gymnastics lessons for the kids, don't tell them and make that one of their gifts. Write it up certificate-style and include something small to unwrap, like new gloves or a leotard.

Think of other ways to make gifts out of things you were planning to buy anyway, like housewares, warm weather apparel and so on. It's not sexy, but in a "recession-like" time, practicality trumps all. We know we're looking forward to socks and underwear from Aunt Mildred more than ever this year. And when it's all over, we've hopefully learned that when it comes to giving, it really (really!) is the thought that counts.
Posted: 11/2/08