Kill 'Em With Kindness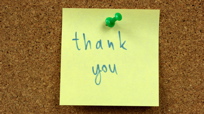 Your partner makes your coffee every morning and picks up your dry cleaning and keeps your car washed. And vacuumed.

Yeah, so? What does he/she want, a medal?

Whoa. A simple thank you would be nice. Even a grunt would be better than nothing. Remember, there are no job descriptions. These are things the person you've chosen to spend your life with does willingly. Stop taking them for granted. For that matter, try being more appreciative of all those who do so much for you. They really do have your best interests at heart, but may not be as inclined to help out if you keep forgetting to say thanks every once in awhile.

Expressing your appreciation can breathe new life into your relationship. Today, make a list of all the nice things your partner does for you. (If there's nothing, then uh… see? That's what happens when you aren't appreciative.) Over the next week, express your thanks for every kindness. If it helps, think about how you'd react if a casual acquaintance did the same thing for you.
Posted: 11/17/08